Cecil, "C.W."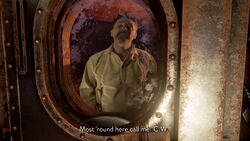 | | |
| --- | --- |
| Species: | Human |
| Gender: | Male |
| Date of Abduction: | 1870 |
| Place of Origin: | Southern United States (probable) |
| Circumstance of Abduction: | In "deep woods" |
C.W. (first name Cecil) is one of the main characters in Obduction. He is the only human the player interacts with in-person, though this occurs almost exclusively through the window of his vault. C.W. was abducted in 1870 in a forest[1] that was probably located in the Southern United States. At the time of his abduction, he knew a young girl named Scarlett, who was probably his daughter.[2]
C.W. is portrayed by Robyn Miller, brother of Rand Miller, game developer[3] and co-founder of Cyan, Inc.. Robyn also composed the Obduction Soundtrack.
References
[
]